The month of May definitely does show a positive outlook on love. The month of May does show me that relationships are going to start to bloom into more of a committed relationship.  Broken hearts, divorces, cheating affairs, there is also a good outlook for you as well, as we all know May is the time of the year flowers start to bloom, the weather becomes fresh and more of a good day.  So all of you that have been hurt, be prepared relationships are going to reconnect. Broken hearts are going to be for filled with love once again, and for anyone that has been cheated on there is going to be a breakthrough – something you have been praying about and something that you have question yourself about.  Things are looking good for the brokenhearted, even for the ones that have been waiting for a relationship, this is your time to shine for you to finally be noticed so take advantage of it.
For those who have been waiting for the commitment, it's right around the corner for you! This month is definitely about love it's kind of like the month of February, but spring addition. as the flowers bloom relationships get deeper love becomes stronger, and so on.
The month of May also does tell me husband/wife boyfriend/girlfriend you are soon to take a trip with your love one. Take advantage of the beautiful weather to come travel to where you have always planned if it's the beach even if it's to the pool I definitely do feel relationships are going to be for filled with romance on these special vacations.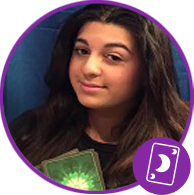 Emma is Back! And is available for Live Chat Sessions, Video Readings and Photo orders at My Tarot Advisor.